The Atlanta Contemporary Ensemble is a mixed chamber orchestra specializing in avant-garde music and the pioneering of living composers both locally and internationally.

ACE combines live music with powerful dance, choreographed by the highly skilled members of the Suhka Artists contemporary dance company.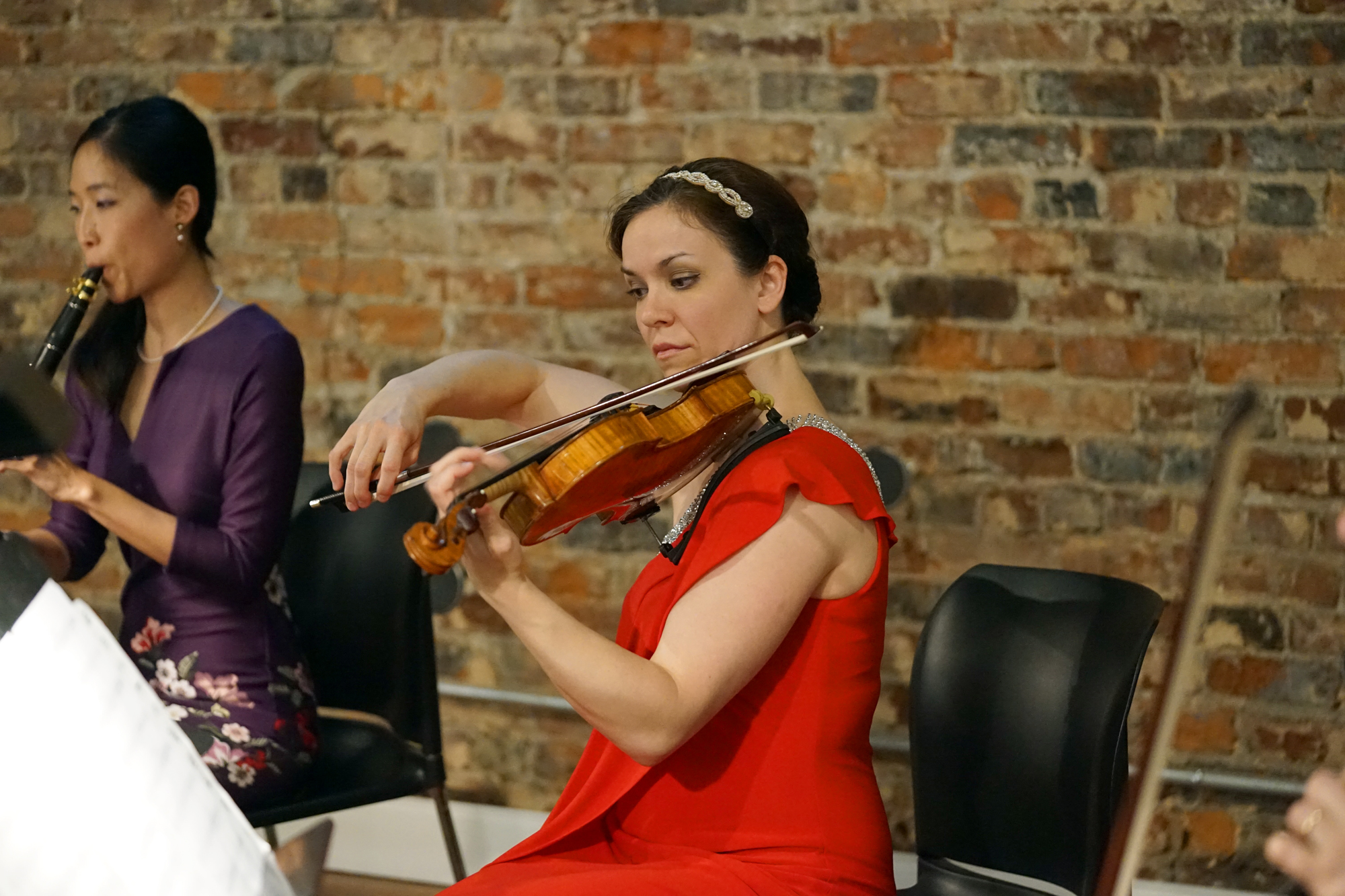 Amy Wilson
Conductor
Amy Wilson is a conductor living in Atlanta who has conducted orchestras throughout the United States, Mexico, and Europe. Currently, she is the Music Director of the Atlanta Philharmonic Orchestra and the Principal Guest Conductor of the Atlanta Musicians Orchestra. This summer she is guest conducting with Diversita Opera Arts.
Amy has appeared as a guest conductor with the Agnes Scott College-Community Orchestra, Atlanta Musicians Orchestra, Yakima Symphony Chamber Orchestra, Ocmulgee Symphony Orchestra, and the Warner Robins Air Force Band. She has worked with internationally renowned soloists including Kenn Wagner, Christina Smith, and Justin Bruns. She is collaborating with Julie Coucheron this spring with Atlanta Philharmonic Orchestra. Amy has been on television, radio including WABE, and has had an article written about work with Atlanta Philharmonic Orchestra in David magazine. In 2005, Amy was named the winner of the International Conductors Workshop and Competition.
Amy has studied with such distinguished conductors as Robert Spano, Adrian Gnam, Gustav Meier, Jesús López-Cobos, Anshel Brusilow, and Wayne Wyman. She holds a degree from the University of Cincinnati College-Conservatory of Music, and advanced degrees from the University of North Texas, and Mercer University. Robert Spano is composing a new work to be premiered by the Atlanta Philharmonic Orchestra in 2019. For more information visit http://www.amymwilson.com/
Tricia Froedge
Choreographer
Suhka Artists creates a poetic expression of movement, illustrating deep, rousing investigations regarding identity and historical narratives. Through the vehicle of modern dance, Tricia's work communicates perspectives with depth and style that capture the viewer with evocative physicality, emotional range and technical feats. More information at https://sukhaartistdevelopmentstudios.weebly.com/
Krista M. Jones
Artist
Krista M. Jones (aka Jonesy) is an Interdisciplinary artist based in Atlanta, GA, USA. She was born to a military family in Dallas, Texas and spent her life traveling both nationally and internationally. Jonesy has used art most of her life as a tool to express and process the human experience. Her intention is to connect personal and community narratives to larger themes and social issues through her work.
Jonesy studied Fine Art at University of Texas at Arlington and gained her BFA at Columbus State University in Photography and Painting. After taking on an internship as an Assistant Art Director she began a 13-year career in Graphic Design. She has embraced art entrepreneurship full-time and focuses predominantly on paintings and murals. She is affiliated with AIGA, Graphic Artist Guild, Alternate Roots and C4 Atlanta, where she graduated from Ignite and HATCH programs. She has shown and sold nationally and internationally, and her work has been featured recently with CommonCreativ, VoyageAtl, Decaturish, Aquarius Magazine, Champion Newspaper, and Atlanta Intown publications. Some of her clients include Atlanta BeltLine, Unscripted Way, Sustainable Wellness, Aquarius Magazine, Brandshake Creative, Precision Performance Atlanta, Expression Chiropractic, Hales Photography, Virtually Staging Properties, KGA Creative, City of Atlanta Mayor's Office of Cultural Affairs, ThinkGreatly, Third & Urban, Lake Claire Community Land Trust, MARTA, Modera Vinings and Living Walls. She was a recipient of Laura Patricia Calle grant in 2017 for Living Walls in collaboration with four other women for a mural project called "In Solidarity" and assisted world-renowned artist Hopare in the creation of Atlanta's largest mural to date.
She is currently working on a large body of work call "Pulling Light from the Darkness" which includes several series that focus on self-expression, empowerment, LGBTQI advocacy and intersectional feminism. She is a mixed media artist that uses animal imagery, patterns, symbolism and figurative elements to express observation of the human experience. More info can be found at https://www.jonesyartatl.com
Tracy Kathleen Woodard
Executive Director
Tracy Kathleen Woodard holds a BA from Georgia State University and MA from University of Georgia, and has been active in the Atlanta non-profit scene since 1999. She sits on the board of directors for Eyedrum Gallery, founded the Cantos Y Cuentos contemporary string quartet, is President of Mad Housers Inc., and currently works for Intown Collaborative Ministries. Through Eyedrum Gallery she started and continues to program the silent film series "Signal and the Noise", and Cantos Y Cuentos continues to pair new compositions with Atlanta art spaces.
Players
Bora Moon - clarinet
Matthieu Clavé - flute
Caleb Herron - percussion
Martha Oceguera - viola
Katie Gardner Otwell - violin
Ben Shirley - 'cello
Events
Electric Eve
April 2020
Atlanta GA
Contact

General Contact: admin@atlce.org